Skip to product information
★ ★ ★ ★ ★

"As a complete sceptic I didnt think these would work at all. I feel on the ball for a good 12 hours all day. I suffered a little bit with Anxiety before taking these as well, and the tablets have helped with that too Obviously I can only speak for myself and perhaps I've just found something that really works for me, but well worth a try even if they dont work for you, you've got nothing to lose.""

VALERIYA TEBBITTS

See more reviews
Energy
Power Up
Power Up does what coffee struggles to do - calm, clean and long lasting energy without the wired feeling.  Formulated with energy supporting nutrients, but no caffeine, Power Up delivers a reduction in tiredness and fatigue without the caffeine-like crash at the end of the day.


🏆Award winning formula - energy, performance and cognition all in one.
🚀Get focused - you'll wonder how you got anything done before Power Up.
💕Everyone loves Power Up, check out our 5 star reviews below.


Free UK shipping above £50.

Subscriptions 📦You'll receive one of our classic glass jars on your first order, followed by our compostable refill pouches thereafter. Don't worry though, if you ever break or lose your glass jar just let us know before your next subscription and we'll send you one out 🤙
See all benefits
See ingredients
★ ★ ★ ★ ★

"As a complete sceptic I didnt think these would work at all. I feel on the ball for a good 12 hours all day. I suffered a little bit with Anxiety before taking these as well, and the tablets have helped with that too Obviously I can only speak for myself and perhaps I've just found something that really works for me, but well worth a try even if they dont work for you, you've got nothing to lose.""

VALERIYA TEBBITTS

See more reviews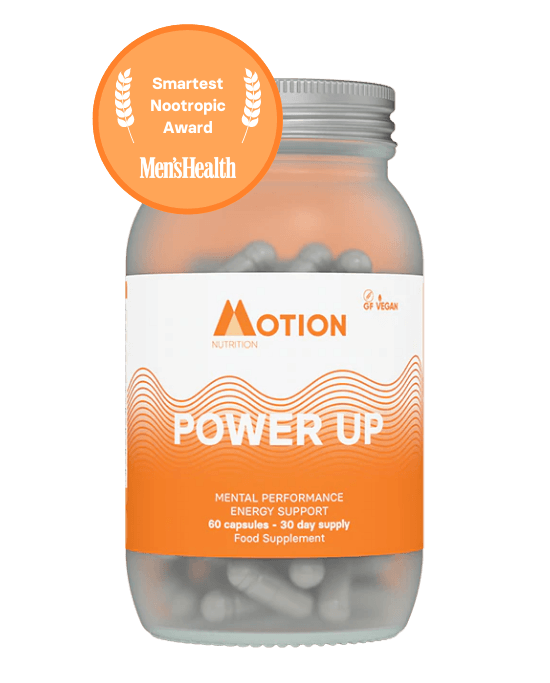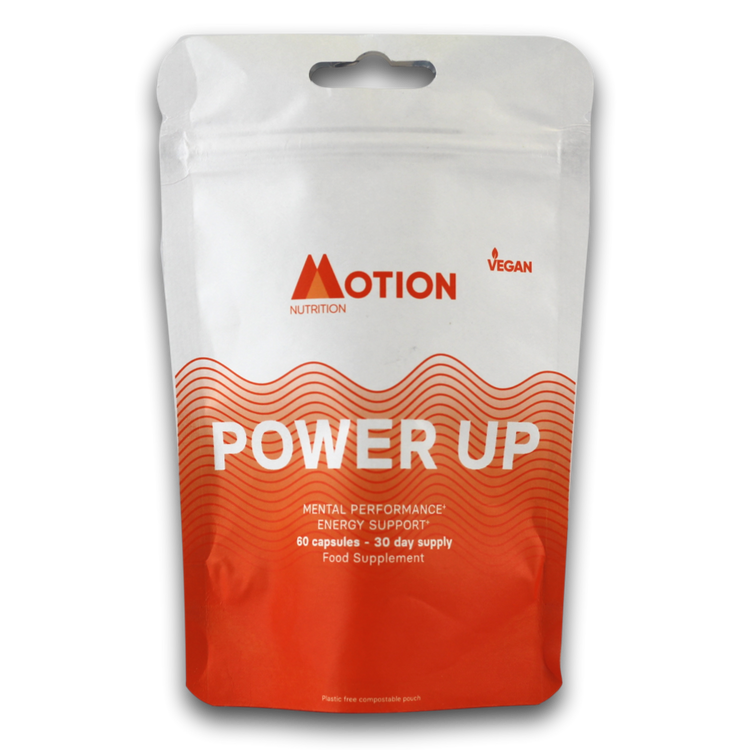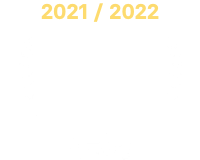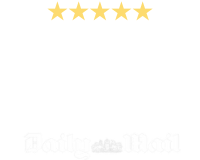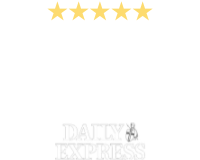 Mental energy generating nutrition
Monk-like Focus
With pantothenic acid, Power Up actively contributes to normal mental performance; supporting your cognitive capabilites and counteracting the fog that impedes your focus.
Rival Nelly
With the brain supporting vitamins of B6, B12, and folate, Power Up supports normal psychological function; getting your memory back to being more like Nelly and less like Dory.
Reducing Fatigue
Fed up of that mid-day slump? Support your body's processes with Power Up's blend of essentail nutrients, including iron, pantothenic acid, folate, and vitamins B6 and nicacin, that work together to reduce those feelings of tiredness and fatigue.
How does Power Up work?
Optimal energy metabolism requires getting sufficient
nutrients from our food, otherwise our energy metabolism doesn't perform as well and we feel tired and sluggish. Power Up provides a balanced mix of nutrients that contribute to normal energy-yielding metabolism that we might normally turn to a midday coffee for. Power Up means that, instead, you can stay energised all day without the caffeine jitters.
| | |
| --- | --- |
| Nutrient | Daily serving (NRV) * |
| Vitamin D3 (from algae) | 1000IU (500%) |
| Vitamin B3 (Niacin) | 50mg (313%) |
| Vitamin B6 (P5P) | 18mg (1286%) |
| Folate (L-methylfolate) | 10mg (100%) |
| Vitamin B12 (methylcobalamin) | 400μg (16000%) |
| Biotin | 400μg (1000%) |
| Vitamin B5 (pantothenic acid) | 10mg (167%) |
| Iron | 20mg (143%) |
| Manganese | 3mg (150%) |
| L-taurine | 200mg |
| Acetyl-L-carnitine | 100mg |
| L-tyrosine | 100mg |
| Korean Panax Ginseng extract 4:1 | 100mg |
| Lion's Mane extract 10:1 | 67mg |
| Choline | 41mg |
| Gotu Kola extract 4:1 | 25mg |
| Piperine black pepper extract | 2.5mg |
| Boron  | 2mg |
Daily Serving: 2 capsules in the morning, away from food
NRV stands for Nutrient Reference Value
No gluten-containing ingredients. 100% Vegan.
Ingredients: Vegetable Cellulose (capsule shell), L-Taurine, Choline Bitartrate (hydrogenated veg.oil), Gotu Kola, Panax Ginseng, L-Tyrosine, Acetyl-L-Carnitine, Iron Bisglycinate, Lions Mane (Maltodextrin), Niacinamide, Manganese Bisglycinate, Pyridoxal 5 Phosphate, Cellulose, Sodium Borate, Calcium Pantothenate, Cholecalciferol (MCT oil, d-α-tocopherol, corn syrup, arabic gum, silicon dioxide, sodium ascorbate), Piperine, Biotin, Calcium- L-Methyl Folate Methylcobalamin.
Every day, Power Up maintains your mental energy reserves
DAY 7
B vitamins begin supporting your mental energy levels.
DAY 21
You're likely no longer reaching for that 2nd or 3rd cup of coffee.
DAY 45
By this point, productivity levels are better maintained.
DAY 90
So long, decision fatigue. You are equipped to take on the day.
DAY 180
Nutrient levels have reached optimal levels for maintaining energy and general wellbeing.
ENERGY WITHOUT THE JITTERS
Real people. Real results